Avv. Giovanni Bianchini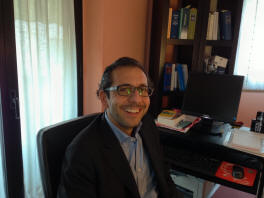 Gestione delle pratiche del settore relativo al recupero del credito verso Enti ed Istituzioni pubbliche debitrici e terzi pignorate (A.U.S.L., Aziende ospedaliere, Regioni, Banca d'Italia, Servizi tesorerie enti creditizi
- Competenza e gestione pratiche in materia penale, commerciale, fallimentare, di diritto amministrativo dei mercati e concorrenza;
- Procedimenti dinanzi all'Autorità di tutela della privacy.
Si occupa delle questioni giuslavoristiche e previdenziali, del recupero del credito di fronte alle autorità giudiziarie minori.
Management of industry practices relating to debt recovery for agencies and public institutions.
AUSL, Regional Hospital Institutions, Bank of Italy, treasury services for credit institutions
Jurisdiction and management practices in criminal matters, commercial, bankruptcy, administrative law of markets and competition
Proceedings before the Authority to protect your privacy.
Deals with matters of labor law and social security, credit recovery in the face of lower courts

Avv. Antonietta Marcolini
Si occupa delle questioni prettamente civilistiche, con particolare riferimento all'infortunistica ed al diritto delle assicurazioni e della volontaria giurisdizione.
Deals with purely civil, matters with particular reference to accidents and the right to insurance and voluntary jurisdiction.
Partner collaboratore per estero - Overseas partner
Avv. Enzo Massimo Chiappa

Esercita la professione dal 1986, è stato socio fondatore dello Studio legale Chiappa Bianchini e ass.ti. in via autonoma ha poi costituito un nuovo studio legale a Bangkok, svolgendo da oltre un ventennio l'attività legale nel Sud-Est dell'Asia.
Già segretario nazionale ANASTE Toscana (ass.ne case di riposo), esperto in assistenza legale e commerciale internazionale, con particolare riferimento al diritto dei paesi dell'Asia (Thailandia, Hong Kong, China, Laos, Myanniar, Vietnam, Malaysia, Indonesia, Singapore, Philippine).
Referente e fiduciario dell'Ambasciata Italiana a Bangkok, consulente del Ministero dell'Industria del Governo Reale Thailandese, consulente di istituti di credito di rilievo nazionale nell'area del sud-est asiatico
Worked in the profession since 1986, was a founding partner of the law firm Chiappa Bianchini and associates. Independently then formed a new law firm in Bangkok, working for over twenty years in legal activities in Southeast Asia.
National secretary Anaste Tuscany (ass.ne homes), an expert in legal assistance and international trade, with particular reference to the right of the Asian countries (Thailand, Hong Kong, China, Laos, Myanniar, Vietnam, Malaysia, Indonesia, Singapore, Philippine).
Contact and trustee of the Italian Embassy in Bangkok, advisor to the Ministry of Industry of the Royal Thai Government, a consultant at institutions of national importance in the area of south- east Asia.